Best Sewer Line Repair Specialists in League City, TX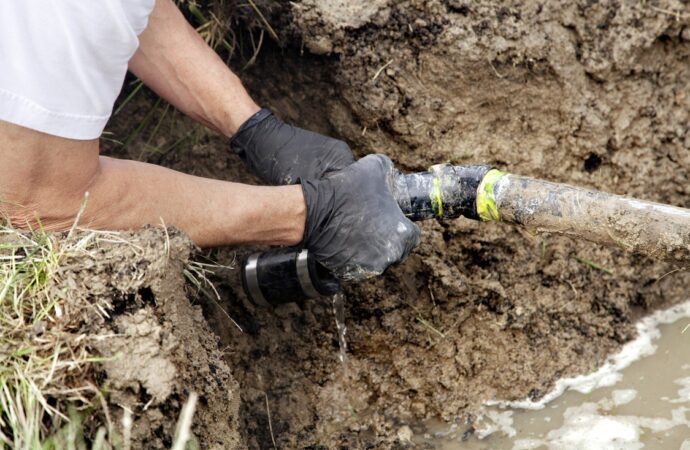 Most property owners that recently acquired their homes or commercial buildings are not always aware of all the things they have to handle. Not now and in the future. Well, we don't want to scare you or make you think that owning your home or property is not worth every penny and time you will have to spend on it. After all, who doesn't want to stop worrying about paying rent and being unable to do whatever you want since it is completely yours?
Now, we want you to know that owning it comes with many elements and aspects that will need your attention. The maintenance of the property in general will be something to keep in mind all the time to guarantee the durability, longevity, and performance of every single part. But this is something easy to control when you just look at the external elements or usual ones. When you focus on others that never had that much attention from property owners, well, you start noticing you must be more careful.
One of those is the sewage system to which you are connected and if it is yours or from the state. In short, most properties in large cities and certain communities are connected to the public sewer system. As a result, they don't have to worry too much about the condition and performance of the sewer line unless some problems start to appear.
But what happens if the problem is directly in your property or if the sewer line was installed for you several years ago or maybe recently? Simple, you will have to handle everything on your own. Now, our point in all this is that just like other parts of your property, sewer lines also require repairs from time to time. You might not have to repair a line every day, month, or year.
But you should keep this in mind all the time so you don't get surprised when a problem appears and knocks on your door. But when it happens, what can you do? Most of the repairs performed in sewer lines are related to broken pipes, which are a bit simple to handle when you know what to do. However, we do not recommend to property owners the option of dealing with those repairs by themselves. Therefore, every time you have to perform one in your sewer system, make sure to contact a reliable and experienced company in the area or your city.
We at Lone Star Septic & Sewage Services of League City offer services to all property owners in Texas, especially in League City where you can find our main offices. We will handle the problem at hand with the right methods to guarantee three things:
That you don't spend a fortune trying to get things done and repaired.

You will be able to continue using your sewage system within a day or two.

You won't have to worry about future repairs in the same area, pipe, or element for the next decade or more.
In total, there are 3 things we can handle for you so you can continue enjoying your days without water overflowing your yard or the area where the lines and pipes are located. And worry less about the time and money you will spend.
As we mentioned before, this is the most common repair that needs to be performed in both residential and commercial properties. But how do pipes break in the first place?
The internal and external pressure influences a lot in the durability of the pipes and the damage they receive over the years or even months. Also, shifting soil, frozen ground, and settling, among other options, can crack them without problems, and sometimes, it just happens from one day to another.
The waste and sewage that blocks the water flow that is regular in your property need to be handled as soon as possible to prevent serious damage to the pipes. Many property owners not only handle this but also the repair of broken pipes when the buildup waste is not removed on time.
It is very common in sewer lines that are not properly installed or were not prepare during the installation to resist corrosion from different sources. Of course, when you consider the corrosion inside the pipe, things get a bit more difficult because it takes place due to use and how old it gets. And it only brings the previous problems to your system.
How are we going to deal with your

sewer line repair

?
---
Since it depends on what needs to be done, we cannot give you a proper and unique answer to this question. But if you're focusing on how capable we are and how we can get things done, there is nothing to worry about. Our company Lone Star Septic & Sewage Services of League City is specialized in every sewage service and will make sure that the repairs you need are performed and carried out properly. 
In this way, you will not only enjoy your system for the time being but also in the future. Of course, if you complement everything with proper maintenance, cleaning, and pumping. There is a lot to do when dealing with sewer lines, and although this probably has nothing to do with the repairs that might take place, you must know it: we will also clean the lines. Every time we help property owners with this service and task, we are in the position where our cleaning and maintenance will be necessary as well. 
And this doesn't include the area where we were performing the repair but rather the entire sewer line of your property. We know it is something you're probably not willing to pay or add to the final cost. But we will always ask you before doing it. Just keep in mind that it will help you to avoid more problems and future expenses in repairs with your sewer system.
We offer a variety of services at Lone Star Septic & Sewage Services of League City. Below, you will see the most popular services our clients & customers always ask for. But if you need something that may not be listed, don't worry. Just give us a call or fill out a form, and we'll make sure to come out to your property or business and make sure we can help you solve your septic problems.
---
Here at Lone Star Septic & Sewage Services of League City, we provide the best septic tank services throughout all of Texas and specifically the Greater Houston Area. Below are the nearest cities we can offer immediate services. But if you don't see your city listed below, don't worry! Just give us a call or fill out a form on our contact page, and we'll make sure to take good care of you.
---
Lone Star Septic & Sewage Services of League City
2701 Bay Area Blvd, Unit 3309, Webster, TX 77598
(281) 729-4120