Best Grease Trap Pumping & Cleaning Services in League City, TX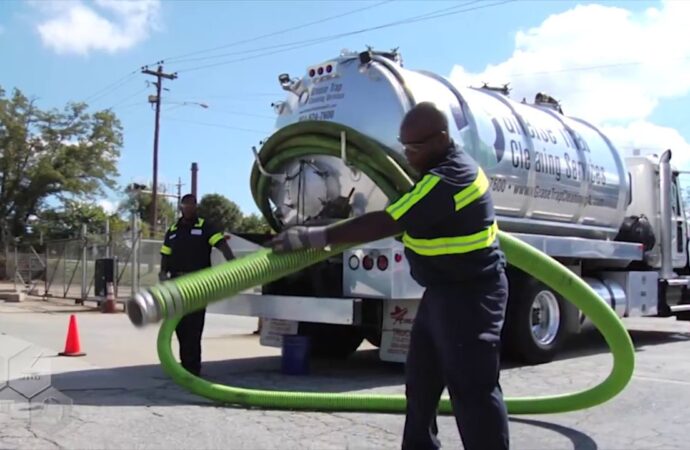 Having a sewage system installed is just the beginning of everything that is required when it comes to getting rid of the liquid and solid waste that comes through your drainage. We know that you, as a property owner, don't really think too much about all the services that come after the installation of either a septic tank or sewer line. As a result, you start facing them when you have the problems right in front of you and realize that for durability, longevity, and performance, you need to carry out a few more services.
Also, some additions—features and tools—are welcomed in order to treat and deal with specific matters in your system. Like most greases, oil, fats, and more waste that always tends to build up and bring many problems to the performance of the sewage system. What we are trying to tell you with all this is that it will be more complicated than it seems so far. Focusing on one addition, in particular, we want to mention how important grease traps are and why you need them.
To begin with, grease traps are literally what the name indicates, traps, and they are designed to remove all the oil, grease, and sludge from the wastewater that flows through the drains and pipes and reaches your sewer line or septic tank. This oil and previous waste mentioned are particularly tricky to deal with because they cannot be trapped with usual tools installed in the pipes and drains of the system. Instead, you have to set a trap and make sure all that fatty and oily waste will not obstruct your pipes and drains anytime soon. Now, are they as perfect as most people make them look like?
Overall, they are your only solution to guarantee control over this type of waste. However, they entail a smelly and unpleasant job which is cleaning them periodically. Most property owners expect that those traps will handle for several years without problems and replacing them sounds more like an option. But this is not how they work. If you have one, two, three, or several grease traps placed in your system, you will have to clean them periodically depending on the workload or influx of waste that goes through your system.
To give you an example and average, restaurants are properties that deal with fatty oils, grease, and all this waste every day. As a result, they have to clean and pump their traps every 4 or 5 months to guarantee the smell is not strong or even present, and have a hygienic working place plus one that will attract people instead of making them run away. Of course, some restaurants have to perform the task more often than others, but the average goes round this period of time. But what about a home where only 2, 3, maybe 4 or 5 people live? Things are a bit easier.
You can easily clean them every year, but just keep in mind it is something that will send you signs of needing some pumping and cleaning due to the smell that is present when the trap is full of waste. Is it something you can handle alone? Not really. Cleaning and pumping grease traps take more time, equipment, and experience than anyone would believe. And it is not something you can do within a few hours and on the same day.
The most common method to clean them is by applying substances that will stick to the waste and adhere to everything in order to be able to remove everything the next day after the substances have solidified. At Lone Star Septic & Sewage Services of League City, we can help you to handle this and guarantee that your traps will work properly after we are finished. You will have a smooth environment and odor will not be present at all.
How do we proceed to perform this service?
---
Using substance is one of the most common methods—as mentioned before—, but we will need to perform some inspection and determine certain details. Like the inches of grease in the trap and determine how much pumping and cleaning needs to be done. Based on this information, we have to perform several steps, like removing the lid from the grease trap, which is located outside your property or commercial building.
When it has been removed, we will proceed to get rid of the grease using a small pump or leaving the substances to settle. Scrapping the grease and oil is also an option and we will do it around the trap but also in the parts that are tricky and can have some solid waste stuck in them. All this process takes more steps that involve the lid, throwing the grease away, dealing with the water from the trap, and so on. It is not something that will take only a few minutes or even hours.
We have to make sure there is no grease left or we will get back to the beginning and force you to perform this process more often than you should. Which would mean more money, effort, and time.
Do you need to pump and clean it or replace the trap? 
---
Just like any other part of the septic system or sewer line, you will have to replace this element at some point. But how do you know when it is time to replace it? Sometimes, the grease will start to flow into the local water system and it comes directly from your property. But this shouldn't happen unless your trap is full and dirty or if it is old and damaged. 
If you have cleaned and pumped it frequently and every time it was necessary, you should not struggle with this. But poor maintenance and cleaning are what lead people to the task of replacing the trap. This means that replacing it is necessary when the cleaning is not enough to deal with the condition and guarantee there won't be grease in the water coming out of your property. 
If you find yourself trapped with a smelly trap, one that does not filter the grease, or always makes you clean it although the grease is not blocking the drain or pipe, make sure to replace it. We at Lone Star Septic & Sewage Services of League City, will be here for you for any of those services and guarantee that your grease traps are pumped and cleaned.
We offer a variety of services at Lone Star Septic & Sewage Services of League City. Below, you will see the most popular services our clients & customers always ask for. But if you need something that may not be listed, don't worry. Just give us a call or fill out a form, and we'll make sure to come out to your property or business and make sure we can help you solve your septic problems.
---
Here at Lone Star Septic & Sewage Services of League City, we provide the best septic tank services throughout all of Texas and specifically the Greater Houston Area. Below are the nearest cities we can offer immediate services. But if you don't see your city listed below, don't worry! Just give us a call or fill out a form on our contact page, and we'll make sure to take good care of you.
---
Lone Star Septic & Sewage Services of League City
2701 Bay Area Blvd, Unit 3309, Webster, TX 77598
(281) 729-4120