Fast Commercial Septic System Installers in League City, TX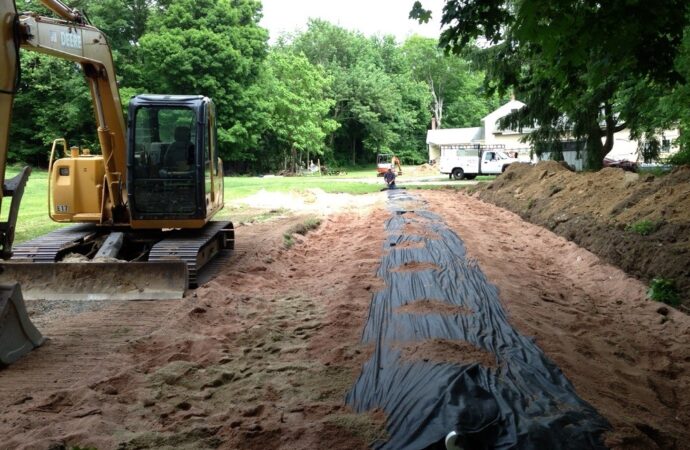 Working with small systems and elements is easier than doing the same with big or large ones. This is something you should know by now or can determine with common sense. Now, why are we mentioning this right here and now?
In the case of septic systems, it couldn't be truer. Dealing with residential septic systems is not as hard as people believe since most of the tanks that are installed are small compared to others in commercial buildings or properties in general. The concept and steps to take are quite the same when you think about the entire process that it takes to have the tank you need right in place and without any issues.
Testing the soil.

Acquiring the permit for installation.

Excavation.

Placing the tank and extra elements.

Covering the tank with the soil.

Making sure it works properly—before and after covering it.
Now, in Texas, most residential owners prefer sewer line nowadays for very obvious reasons. But that does not mean septic tanks are a bad option nor something you should stop considering so far. In the case of owning a property where the number of people using sinks, toilets, and tubs is very small or low, you won't have problems with a septic tank that is standard or normal for the workload.
When it comes to something different like an entire commercial building or place, you will have to be a bit more careful about it. But again, it does not mean that a septic tank cannot fulfill all your needs. Instead, you will find it easier to have control over the among of waste—both liquid and solid—on your property. Just make sure that if you are looking to install a septic system, make sure to find reliable and qualified professionals for the task.
At Lone Star Septic & Sewage Services of League City, we can help you with all your needs that include a commercial property where a septic system is needed. Or where our maintenance, cleaning, pumping, and other services around the system are required. Most property owners that reach out to us are trying to find someone who can help them to install the entire septic and guarantee there is nothing that will go wrong with it. However, many of them forget about the usual maintenance the system needs to work properly and guarantee its durability and longevity. Therefore, whenever you reach out to us and ask for our commercial septic systems you will be able to access the entire 'package' for your needs.
Why a septic system instead of sewer lines?
---
In Texas, it is common to find areas, cities, and towns where the public sewer system doesn't reach. As a result, people have to find solutions to either connect themselves to the system or install a new method that will fix their problems. Now, why would you need septic instead of going for the option of a sewer line?
Sometimes, it is not possible to get access to the line since it is way too far or it is impossible to get some pipes placed at the moment. Also, sewers are not always the best options when you manage a property where the flow of waste is way too much for the pipes to hold. You would be surprised by how easy is to break or damage a pipe from the sewer line compared to how long and how much your septic system will last along with all the parts and elements involved.
Of course, we are assuming that the amount of flow your property pumps out is way too much or comes in a large amount. But if we are realistic, unless you're using the building as storage, it is very likely for you to manage a large one. This is when septic systems come in handy because you don't have to worry about the waste for several months and years.
Most commercial property owners clean and perform maintenance in their tanks before a problem appears or any sign that the tank is full starts to show. But you are able to hold a bit more before performing any of the services required to guarantee performance. Just make sure you don't forget about them or push too hard for your system. The professionals in our company will help you with everything it takes to have it installed and maintain it later on. 
Just contact us at Lone Star Septic & Sewage Services of League City and we will be there for you. The entire concept of handling commercial septic is the same as residential but with more work involved due to the number of parts and pipes that need to be connected to the tank. Also, the size of the tank will be one of the biggest ones in the market or maybe the one with more capacity. 
As a result, the task of placing it and making sure everything is properly installed will take us more time and effort. This is why the process should start as soon as possible if you're planning to get it done within a few days. It is not a simple thing you can do in one or two days even with enough staff and personnel. You need to guarantee stability and integrity while also following the laws and norms established by the state when it comes to carrying out this project on your property. 
What about the rest of the services? We have the right and proper equipment and tools for everything thus, it is not necessary to worry about them. You can get your tank cleaned within a few hours depending on the amount of sewage stuck and built up in the system. And pumping is something we can do easily thanks to the latest machines we have acquired for it. Just let us know what you have in mind and your specific need so our experts can start taking care of every single one of them.
We offer a variety of services at Lone Star Septic & Sewage Services of League City. Below, you will see the most popular services our clients & customers always ask for. But if you need something that may not be listed, don't worry. Just give us a call or fill out a form, and we'll make sure to come out to your property or business and make sure we can help you solve your septic problems.
---
Here at Lone Star Septic & Sewage Services of League City, we provide the best septic tank services throughout all of Texas and specifically the Greater Houston Area. Below are the nearest cities we can offer immediate services. But if you don't see your city listed below, don't worry! Just give us a call or fill out a form on our contact page, and we'll make sure to take good care of you.
---
Lone Star Septic & Sewage Services of League City
2701 Bay Area Blvd, Unit 3309, Webster, TX 77598
(281) 729-4120