League City's Top Septic Tank Replacement Company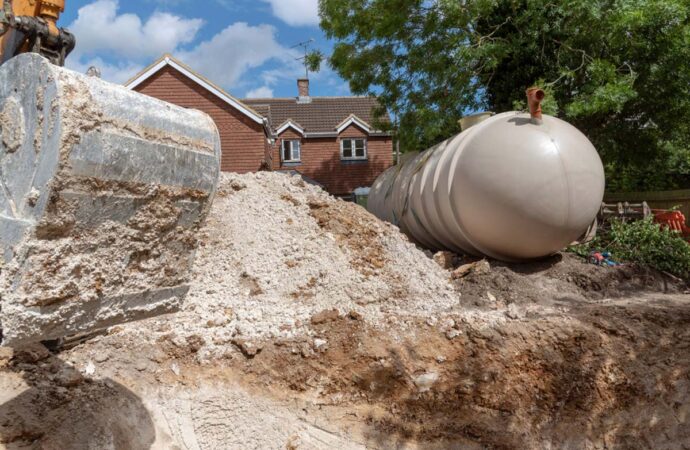 How hard can it be to replace something on your property? Well, it will always depend on what is that 'something'. Most property owners underestimate the work it takes to change a few parts and elements. As a result, they don't realize there are things they should avoid replacing as much as possible due to the difficulty, cost, and problems that can come from that simple but difficult process. If you are unsure about what we are talking about so far, it is simple: a septic tank.
When you own a property where a septic system is installed, you will have to be aware of several things during your years in that home or commercial building. You need to perform maintenance, cleaning, pumping, and deal with other services that will guarantee the performance, durability, and longevity of the system or tank. In short, it is not as simple as just having it installed and leaving all the sewage and waste in the tank without worrying about anything else. Just like any other part of the property, it needs attention and you might end up performing a few repairs that can be either normal and usual, or very uncommon.
You need to take your time with things and when it comes to septic tanks, you should not take the task of owning and installing one too lightly. And this goes for both situations: before and after the installation. Now, focusing on what we are trying to mention since the beginning, is it difficult to replace septic tanks? Yes, and no one can deny it.
Septic tanks come in different sizes and the design is not the same even when the tank is of the same size as in other properties you might be able to visit and have them installed. What we are trying to tell you with this is that the process—essentially—is the same but at the same time, it is not. As a result, you should be very careful about how you are going to approach the task and how you will get the new tank placed and installed. Remember that 'replacement' is just removal and installation in one, which means you will have to deal with both processes at the same time.
Replacing septic tanks is one of those tasks you should never handle it alone for two reasons:
You don't know how to perform the entire process and service.

It can be dangerous without the right safety measures, equipment, and tools.
Therefore, whenever you are in need of replacing one make sure to contact our qualified and experienced professionals at Lone Star Septic & Sewage Services of League City.
Our company offers this service and has helped over a hundred property owners, both residential and commercial, to replace their tanks and get a brand-new one installed, and even better than the tank that was removed. Although this service is quite expensive due to how much work it entails, we always do our best to maintain the cost low and allow property owners to access it whenever they need it. Replacing a tank is not something you do every month, year, or even decade.
Any well-installed septic tank should be able to last—at least—20 years with proper maintenance, cleaning, and pumping. After this time, two things can happen: it either expired or got damaged for a specific reason. When the tank is damaged and needs a replacement for this, our work will be a bit more difficult. Dealing with damaged systems takes more work than usual because we have to make sure nothing will fall apart and take the right measures to guarantee the stability and integrity of the rest of the elements that comprehend the septic. What about when it expires? The task is a bit simpler thanks to the pieces that are complete and without any damage than rather how old they are.
It is about performing it correctly 
---
When someone talks about replacement and septic tanks, it doesn't have to be about the tank itself only. Sometimes, property owners contact us and ask for some assistance to determine what is the problem with the septic system. And ask us to determine what can be done in order to allow the tank to work properly again. 
In short, you can contact us to include the replacement of pumps, pipes, and other elements of the septic tank apart from counting on us for the biggest part of the system alone. Now, what are we trying to say with the subtitle? It's simple. We want you to know that replacements can end up in your worst nightmare when they are not performed properly. And the result will just end up in your spending more time, money, and resources in trying to obtain what you had a few weeks ago. 
This is why it is so important to have the right people handling all the projects and guaranteeing there is nothing that will be out of place or give you problems in the future. We know it is hard and difficult to rely on professionals in the sewage industry due to how expensive and how much time it takes to have something done. But with us, Lone Star Septic & Sewage Services of League City, you will not have to worry about anything thanks to our investment in our team's training and equipment. How will the replacement take place? 
Before we decide to get the septic tank out of the hole and place a new one, we will determine if replacing it is the only option. For this, we will assess the entire system and not only the tank itself. Once our team is done, they will let you know if it is possible to just repair it instead of going all the way for a new one. Keep in mind that repairs are cheaper and if you can avoid replacing your entire tank, it would be much better. For both services and options, just let our experts handle the processes.
We offer a variety of services at Lone Star Septic & Sewage Services of League City. Below, you will see the most popular services our clients & customers always ask for. But if you need something that may not be listed, don't worry. Just give us a call or fill out a form, and we'll make sure to come out to your property or business and make sure we can help you solve your septic problems.
---
Here at Lone Star Septic & Sewage Services of League City, we provide the best septic tank services throughout all of Texas and specifically the Greater Houston Area. Below are the nearest cities we can offer immediate services. But if you don't see your city listed below, don't worry! Just give us a call or fill out a form on our contact page, and we'll make sure to take good care of you.
---
Lone Star Septic & Sewage Services of League City
2701 Bay Area Blvd, Unit 3309, Webster, TX 77598
(281) 729-4120